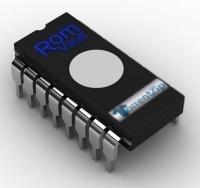 Join me on Discord



Support ongoing development:





How to create MAME sets with RomVault

It is possible with RomVault to validate any of the 3 main ways to collect MAME ROM sets using the xml output from mame itself. This also includes the validation of CHD files.
(I have work hard with RomVault and the source of the DATs for the Pleasuredome MAME sets to check that these sets are fully compatible with each other.)

The three ways to collect MAME sets are:

Merged
Non-Merged
Split

To validate these sets: First you need the XML file from the MAME.exe you are wanting to collect. This can also be downloaded from MAME's main download page

Or you can extract it directly from MAME like this (don't you powershell, use cmd.exe):




You should then put this file into the DatRoot directory structure where you are collecting the MAME set.




Next head over to RomVault UI and scan in this DAT. (Click on Update DATs) This will load this XML file but not yet with the required setup.

So now select and then right click on the MAME (Merge) row in the tree, and click on 'Set Dir Settings' in the popup menu.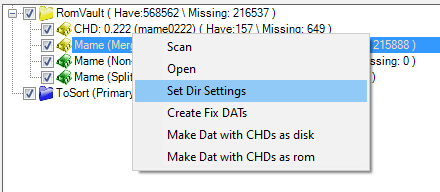 The 'Set ROM Directories' dialog window will be displayed. In here there are two settings to change:


Merge Type: Set to 'Merge'
ROM/CHD Filter: Set to 'Roms Only'

Click 'Apply' to complete this settings change.




If you fix your mame set using these settings you will have a Pleasuredome torrent compatible Merged Set.

You can also set the Merge Type to either Non-Merged or Split, to match the other two types of full mame torrents published on Pleasuredome.





It is also possible to validate the MAME CHD set using this same method. Start by copying the mame.xml output into the required DatRoot directory:




Then set the two directory settings to 'Merge' and 'CHDs Only' as show in this image:




Click apply to confirm this change and then scan & fix your CHD's. (Yes, this will take a very long time.)






Following this process will give you correctly matching sets to any of these main DAT sets and torrents from Pleasuredome: